Tuscany and Umbria in September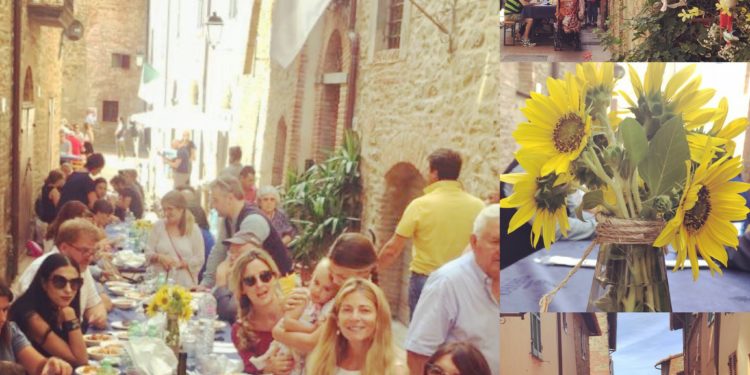 Tuscany and Umbria in September is time for many amazing wines festival and many other local events like the cheese challenge  in Pienza. The weather is warm and the crowds are thinner. September is a wonderful time to visit  Tuscany and Umbria.
Here is a short list of events that we update each 2 weeks!
Umbria open callers – September 23 – http://www.movimentoturismovino.it/en/umbria/
ACQUAVIVA
Live Rock Festival
SEPTEMBER 5 TO 9  https://www.facebook.com/liverockfestivalacquaviva/
AREZZO
AREZZO VINTAGE MARKET – The best vintage market of Italy – from 10.00 to 7.00 all in the city center
September 1 and 2 http://www.fieraantiquaria.org/calendario/
Palio della Balestra up to September 1 at 9.00 PM Palio di Sant Egidio and September 9 from 4.00 Pm Palio della Balstra
http://www.balestrierisansepolcro.it/calendario.php
The137° Edition of the Saracino Joust – September 2 2018 http://giostradelsaracinoarezzo.it/en/
This is a Medieval tradition that was restored in 1931. The four quarters into which Arezzo is divided (Porta Sant'Andrea, Porta Crucifera, Porta San Lorentino and Porta Santo Spirito).
BUONCONVENTO
September 7 to 9 – International Festival of Artisanal Breweries
http://www.villaggiodellabirra.com/eng/
Buonconvento: one of the most beautiful villages of Italy. For this reason it is "a happy, lucky place" as the Latin etymology of the name suggests (bonum Conventum): beauty, history and culture are at every corner of this land and in every stone of the ancient village. #notjustafestival
CANNARA (near Perugia)
The Local onion Festival – up to September 4 and 11 to 16 of September
https://www.facebook.com/festadellacipolladicannara
CHIUSI CHIANCIANO (14 MINUTES FROM IL FONTANARO VILLAS)
September 2 – Steam train tour from Siena to Chiusi.

Up to SEPTEMBER 3 –RUZZI DELLA CONCA – The five Contrade (districts) challenge – the pig race, the woman ball at the bracciale and more.

Running race competition September 16 at Lake of Chiusi
THE WINE FESTIVAL OF CHIUSI (OLD CITY)
---
Festival: SEPTEMBER 28 to 30. http://www.festadelluvaedelvino.com/
CITTA' DELLA PIEVE
CORTONA
Firenze
Celebration of the Rificolona, also called Festival of the Lanterns, 7,  this is one of the oldest celebration held in Firenze every summer. September 7 https://www.visitflorence.com/florence-events/rificolona-festival.html
FOLIGNO
THE QUINTANA SEPTEMBER CELEBRATIONS
The Giostra della Quintana is certainly one of the most important events to be enjoyed by those who visit Umbria. It takes place in the town of Foligno in June and September. It is the historical commemoration of the Giostra that was competed during the Carnival of 1613 "to decide whether it was more appropriate for a knight of honor to show loyalty to his prince or to his beautiful and gentle lady".  The Quintana isn't only a competition. The night before the Giostra, there is a parade through the streets of the town centre. There are 800 characters dressed in wonderful baroque costumes that depict precisely the style and the iconography of the historical period. During the two weeks before the Giostra, the town gathers around ten taverns in ten different quarters offering the gastronomy which represents the characteristics of the XVIIth century and enhancing the virtues of our territory. The atmosphere is fascinating and the spectators feel back to the past.
GREVE IN CHIANTI
Rassegna del Chianti Classico – 48th Expo of Chianti Classico wines 
Greve in Chianti in 6 to 9 September  http://www.expochianticlassico.com/
Directions: For those coming from the south:
From the motorway A1 you have to take the exit "Incisa". Continue, then, to the location Figline Valdarno and then follow signs to Greve in Chianti, through the following locations: Ponte to Stolli, Dudda, Pass Sugame.
Journey time: about 22 km, 25 minutes.
GUBBIO 
September 26 to 30. THE MEDIEVAL FESTIVAL http://www.festivaldelmedioevo.it/portal/
MONTALCINO – FATTORIA DEI BARBI
HARVEST OPEN DAYS – 15TH AND 16TH OF SEPTEMBER  FROM 11.00 AM – TO 7.00 PM 
Fattoria dei Barbi | Montalcino Loc. Podernovi 170 | Strada Consorziale dei Barbi
53024 Montalcino (SI)  www.fattoriadeibarbi.it | info@fattoriadeibarbi.it
MONTEFALCO 
ENOLOGICA WINE FESTIVAL 14 TO 16 OF SEPTEMBER
PACIANO
MILLE E UNA UMBRIA September 2 –   from 10.00 AM to 6.00 PM – One of the best yearly events of Umbria.
A day to experience the best of Umbran products. Not to miss the lunch along the village, there will be a small ticket to pay of 10 or 15 euro. You will choose along the narrow medieval streets of Paciano among many local dishes: from Pici with goose ragu to the Cinta Senese pork and river of red and white local wines. Fontanaro's guests can buy ticket in advance at their check in.
And at the and of September, great harvest at il Fontanaro with Music and lunch with wines  for all the guests!

PANICALE
September 2 at  Museo del Tulle PANOPERA FESTIVAL, VIVA IL VIN! Pièce lirico-teatrale plus wine tasting di Téathron MusiKé. To book: +39 328 7817221 – info@tmusike.it
From  6 to  9,  FESTA DELL'UVA.  WINE FESTIVAL
FROM 15 TO 16, Panicale FILI IN TRAMA, VI edition, mostra mercato Internazionale del merletto
September 15 at 9.00 PM and e Sunday  16 at 5.30 PM,  Teatro Cesare Caporali PANOPERA FESTIVAL, PALANDRANA E ZAMBERLUCCO  booking at:  +39 328 7817221 – info@tmusike.it
The excellence of artistic craftsmanship in the beautiful setting of Panicale Castle: national and international schools, exhibitions, practical demonstrations, courses. Edited by Gal Trasimeno Orvietano. In collaboration with Pro-loco di Panicale, City of Panicale / Councilor for Culture, Touring Club Italiano. (Info Cell 320 – 880 90 22).
Friday, September 22, at 10.30, Panicale, Municipal Theater Cesare Caporali PAN OPERA FESTIVAL. Art Director Virgilio Bianconi. Exclusive show for PAN OPERA SCUOLA under 15. The Thief Takes The Opportunity (1812) – That's the case change. Rossett's music for music. Director, costume scenes First Antonio Petris. Director Patrick David Murray. Master Collaborator Sabina Belei. Pan Opera Orchestra, edited by Téathron MusiKé. Info and reservations: 328 – 78 17 221- info@tmusike.it
Saturday, September 23, at 9 pm and Sunday at 24.30 hrs, Panicale, Teatro Comunale Cesare Caporali PAN OPERA FESTIVAL. Art Director Virgilio Bianconi. The Thief Takes The Opportunity (1812) – That's the case change. Rossett's music for music. Director, costume scenes First Antonio Petris. Director Patrick David Murray. Master Collaborator Sabina Belei. Edited by Téathron MusiKé. Info and reservations: 328 – 78 17 221- info@tmusike.it
Friday, September 29, at 9 pm, Panicale, Collegiate Church of San Michele Arcangelo Festival Morettini Celebration of Saint Patron Saint Michael the Archangel. Artistic Director Eugenio Becchetti, curated by Libera Kalocultural Association.
PANICAROLA
22 TO 30 OF SEPTEMBER, MADONNA DEL BUSSO CELEBRATIONS
At via Trasimeno, 1, 06061 Panicarola PG.  https://www.facebook.com/MadonnaDelBusso/
PANZANO IN CHIANTI
Vino al Vino – WINE 4 WINE FESTIVAL – This is a wine festival held every year by the third weekend of September and the preceding two days (13 to 16 September 2018).
WHERE: at Piazza Bucciarelli. The tasting glass ticket is 12 euros. http://www.panzano.com/important-dates/important-dates-eng.htm
PIENZA
September  – Cheese Festival with cheese barrel competition.
Trasimeno  Lake
Boat tours www.trasimenoboats.com +39 3351739492
Discover the most beautiful tours boat on Trasimeno lake
ROCCO D'ORCIA
TASTE Osteria Perillà – AMONG THE BEST 5 RESTAURANTS IN VAL D'ORCIA
https://www.osteriaperilla.it/en/home/
SARTEANO
September 1 and 2 celebration at the awarded Contrada who win the saracino Joust of August 15
Sunday 16 – street antique market
To eat in Sarteano: Osteria da Gagliano, via Roma 5, tel + 39 0578 2680 22 – to book in advance
UMBERTIDE 
Up to September 3 – 50 MINUTES AWAY
Every year in September, the city of Umbertide makes a jump into the past to come back in the nineteenth century. Customs, traditions, culinary arts, politics and culture of the time, come to life in the "Celebration of September to the end of the nineteenth century. The "Fratta century" wants to remember the way of life of the time referring to a precise historical documentation. While leaving space at the spectacular, in fact, historical reconstructions are extremely reliable, except perhaps some concessions to worldliness with the beautiful costumes of the more than 200 participants.