April in Tuscany and Umbria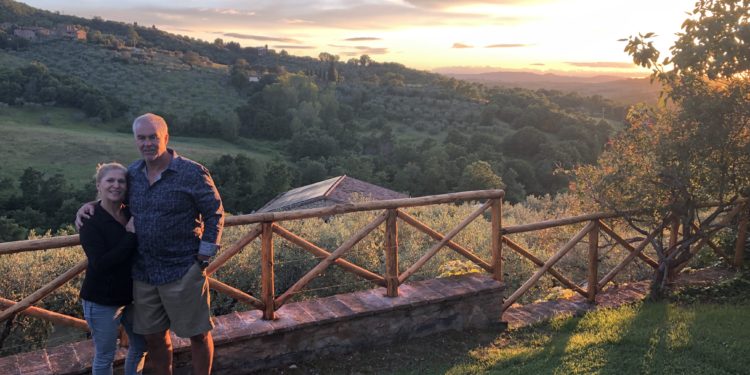 April in Tuscany and Umbria
Spring is here after the great cold of this past winter, This year we have a very early Easter.
Of you travel late April, please note that on April 25, our Liberation Day many shops will not be open.
AREZZO
March 31 and April Special Spring Antique fair.
http://www.fieraantiquaria.org/
+ Arezzo flower show
April 21 and 22 http://www.arezzoflowershow.com/
ASSISI 
Easter events – On Holy Friday, Assisi will be lighted by the glow of  torches and there will be the Procession of Confraternities, followed by  the Mass at the Cathedral.
On Easter Sunday, there will be many religious rituals to celebrate the Resurrection, throughout morning and until afternoon.
+ APRIL 21 TO MAY 1 –  ANTIQUE FAIR –  http://www.assisiantiquariato.it/
CASTIGLION DEL LAGO – SPRING FESTIVAL
KITE FESTIVAL – APRIL 21 TO MAY 1 –
CETONA
APRIL 22 TO 25 – CETONA FLOWERS SHOW http://www.cetona.org
CHIANCIANO – SATURDAY NIGHTS AT THE THERMAL SPRINGS 
CITTA' DELLA PIEVE  – EASTER MARKET – March 31 to April 2
InfoPoint – Piazza Matteotti, + 39 0578 298840 info@cittadellapieve.org
https://www.facebook.com/CittaDellaPieveIAT/  
April 1 and 2 – Live tableaux –  On Easter Sunday and Easter Monday, many actors of Terziere Borgo Dentro perform Live Tableaux on the themes of the Passion, Death and Resurrection of Christ.
In the scenario of the undergrounds of the Palazzo Orca, the traditional representation about Passion, Death and Resurrection of Christ, involving about 40 participants.Each room re-enacts a scene from the life of Christ, in particular The Last Supper, the Garden of Getsemani, the Ecce Homo, the Flagellation, the Pietà on the Dead Christ, the Resurrection. The scenes, made particularly captivating with a scrupulous historical reenactment, find inspiration in the examples of the Italian painting tradition, especially of the sixteenth and seventeenth century.
Crossing the threshold of the undergrounds, the visitors will face with an extraordinary and unreal scenario, and they will be transported in a mystical path full of special emotions
https://www.facebook.com/TerziereBorgoDentrox
FIRENZE APRIL 21 TO MAY 1 THE INTERNATIONAL ARTISAN MARKET AT Fortezza dal Basso.
+ organic Market
+ April 20 Gelato festival! At Piazzale Michelangelo
MONTEPULCIANO
March 29 to April 15 – EASTER FESTIVAL http://www.festivaldipasqua.it/programme.html
ORCIA WINE FESTIVAL – 21st   TO 25TH OF APRIL
More info at: Ufficio Turistico San Quirico d'Orcia – tel. +39 0577.899728 ufficioturistico@comune.sanquiricodorcia.si.it
https://orciawinefestival.wordpress.com/english-programme/
PACIANO
SPRING and Earth FESTIVAL – STREET MARKET ALL DAY! April 22 2018.
PANICALE
Easter in Panicale, April 2. 10.AM to 7.00 PM street Market and at 3.00 PM Ruzzolone, the cheese race!!
PIETRAFITTA
WILD ASPARAGUS FESTIVAL – APRIL 21ST  TO 30TH 
PIENZA
PODERE IL CASALE EASTER LUNCH: https://podereilcasale.com/it/fw-event-slug/menu-pasqua-2018/
COST: 40 EURO PER PERSON + WINES.
SAN SEPOLCRO
Visit the Aboca Museum, the original and the only Herb Museum, has rediscovered the history of the millenary relationship between Man and Herbs and is passing it down to future generations.
Aboca Museum, Palazzo Bourbon del Monte, via Niccolò Aggiunti 75, 52037 Sansepolcro (AR) Italy
Phone +39 0575 733589 – Fax +39 0575 744724
 TERNI  – UMBRIA JAZZ SPRING – APRIL 27 to MAY 1 http://www.umbriajazz.com/