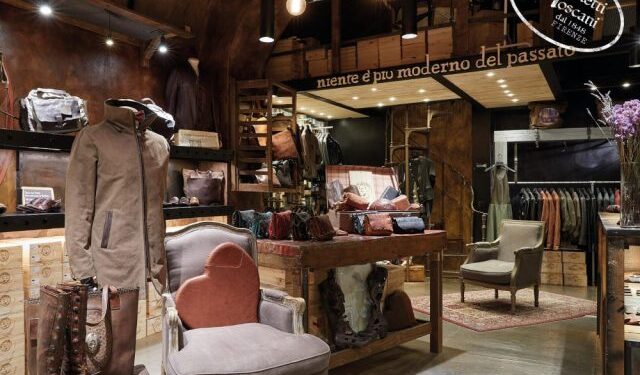 Maledetti Toscani, the dolce vita shopping in Tuscany. The only one 100% Made in Tuscany.
From 1848 Maledetti Toscani is  best shop for the real  Tuscan leather and  fashion accessory  (bags, shoes, jackets…).
They became famous creating   custom-made shoes, bags, and jackets for Italian stars.
Their  great-great-grandfather, in 1848, after some years working in the mines, began the business enterprise of stationery and bookbinding. From then on a long series of historical events overlapped our own family's history. Things like: the fall of the Grand Duke of Tuscany, Garibaldi and the uniting of Italy, the First World War and Mussolini. Years pass, then we arrive in 1932, the year Livio Quadri (our grandfather) transferred his business to the location of the warehouses, cellars, and kitchens of the historic convent of the monks of Saint Stephen's, our present location.
Maledetti Toscani has been a focal point for many decades by Poliziani (citizens of Montepulciano); tourists and many illustrious visitors such as Pirandello, Curzio Malaparte, Federico Fellini, and Prince Charles of England; politicians; artists and intellectuals.
Actually, Maledetti Toscani  brand are located  in more than twenty cities as well as a few foreign countries such as France, Spain, England and the United States.
The main store is in Cortona.
+ Montepulciano: Vicolo di Voltaia, 40
Valdichiana Outlet Village
Bagno Vignoni: Piazza Delle Sorgenti, 10
Rome: Via dei Coronari, 118
Torino: corner store – Via Pietro Micca 18
If you like you can shop online:
https://www.maledettitoscani.com/negozio/