Island Polvese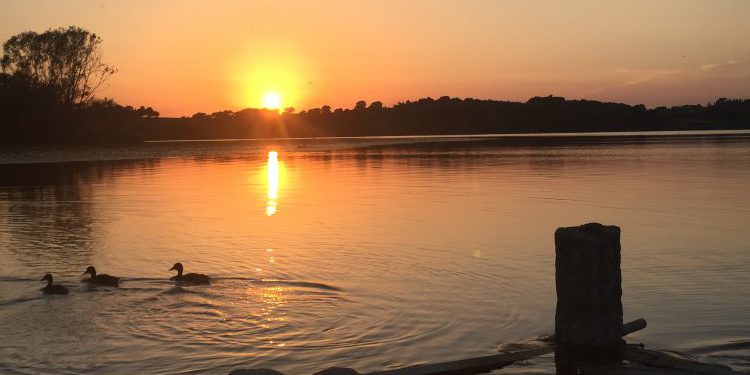 We just discovered peaceful and lovely Island Polvese!
It is easy to get to island Polvese  by taking the ferry from San Feliciano. In less than 15 minutes, we arrived in this gentle oasis on Lake Trasimeno.
We walked along a beautiful path lined with cypress trees and flowering oleanders. To the left we had a great panorama and in the distance, Castiglione del Lago. There are lovely shaded areas with every conceivable shade of green where one can sit and paint, meditate or dream.
We came upon an ancient castle in ruins with a picturesque tall tower, another building with a crenellated wall (Casa Merlata) and a delightful old church.
We ordered a full course lunch at one of several eating places (pappardelle in tomato sauce, followed by thin slices of pork, and crema catalana for dessert.)
The additional great surprise was that free wifi was also available. After lunch we wandered to a nearby little beach and sat and read our New York Times under one of several conveniently placed umbrellas available free to the public. In the late afternoon, we headed back to the dock only a few minutes walk away to take the ferry back to San Feliciano. A delightful afternoon and one that we hope to repeat soon!
Text by our great friend Lucie Hinden from Los Angeles and Paciano
More info at:  http://www.parcotrasimeno.it/
http://www.fattoriaisolapolvese.com/isola_eng.htm
How to reach isola Polvese, timetable: http://www.trasimeno.ws/traghetti_it.html
ON THE WAY HAVE A STOP AT FALIERO TO TASTE THE UMBRIAN PIZZA!
Take Walks to the lake!
GUIDED TOURS:
Routes and guided tours can be organized for groups:
– Duration: from one hour to two and a half hours
– April, May, June and September: Saturdays and Sundays
– July and August: daily
–  Lunches can be booked at the restaurant on the island
For information and prices, please contact: tel. +39 075 5002231 or +39 347 8489578