APRIL IN TUSCANY AND UMBRIA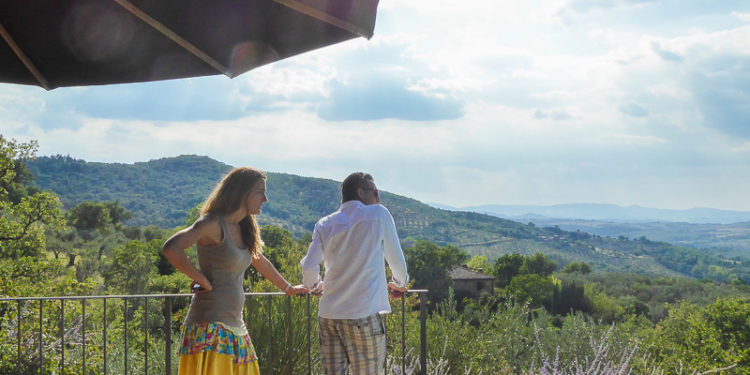 Here are some of our ideas of things to do and see in April here in Tuscany and Umbria around our village of Paciano.
April 16th will celebrate Ester April 17, Monday will be bank holiday (most of shops and supermarket will not be open) .
Also note that we'll have another bank holiday on April 25th, the "Anniversario della liberazione".
AREZZO
April 1 and 2, and 25th special Antique fair.
http://www.fieraantiquaria.org/
ASSISI
ANTIQUE FAIR – APRIL 22 TO MAY 1
http://www.assisiantiquariato.it/
CASTIGLION DEL LAGO – LAKE TRASIMENO
6 TO 9 OF APRIL  – TULIP AND SPRING FESTIVAL – http://www.festadeltulipano.com/
CETONA
APRIL 23 TO 25 – CETONA FLOWE SHOW
CHIANCIANO TERME, PIENZA – SARTEANO 
APRIL 22 TO 25 BIKE CHALLANGE
April 21 to 23  Water and Wine Jazz Festival  – http://www.acquaevinochiancianoinjazz.com/
CITTA' DELLA PIEVE
EASTER MARKET – APRIL 15 TO 17
InfoPoint – Piazza Matteotti, + 39 0578 298840 info@cittadellapieve.org
https://www.facebook.com/CittaDellaPieveIAT/ 
Live tableaux
On Easter Sunday and Easter Monday, many actors of Terziere Borgo Dentro perform Live Tableaux on the themes of the Passion, Death and Resurrection.  On Easter Sunday and Easter Monday, many actors of Terziere Borgo Dentro perform Live Tableaux on the themes of the Passion, Death and Resurrection of Christ, with scenes from the Last Supper, the Garden of Gethsemane, Ecce Homo, the Flagellation, the Pietà on the Dead Christ and the Resurrection, set against the backdrop of the evocative underground vaults of Palazzo Orca.
FIRENZE
APRIL 22 TO MAY 1 THE INTERNATIONAL ARTISANA MARKET AT Fortezza dal basso.
http://www.firenzefiera.it/eventi/exhibition/81-mostra-internazionale-dellartigianato/7378/ 
APRIL 30 – The white night https://www.facebook.com/events/206640073133884/
MONTEPULCIANO
APRIL 13 TO 30 – EASTER FESTIVAL http://www.festivaldipasqua.it/programme.html
ORCIA WINE FESTIVAL 
24TH   TO 26TH OF APRIL
3 Days dedicated to the DOC wines of Orcia. 11 wineries will shows.: Campotondo – Castiglione d'Orcia, Marco Capitoni – Pienza, Donatella Cinelli Colombini – Trequanda,  Fattoria Resta – Buonconvento, La Canonica – San Giovanni d'Asso, Olivi – Sarteano,  Podere Forte – Castiglione d'Orcia,  Poggio al Vento – Castiglione d'Orcia, Santa Maria – Montalcino, SassodiSole – Montalcino, Val d'Orcia Terre Senesi – Castiglione d'Orcia.
More info at: Ufficio Turistico San Quirico d'Orcia – tel. +39 0577.899728 ufficioturistico@comune.sanquiricodorcia.si.it
www.consorziovinoorcia.it
PANICALE
APRIL 17 – THE CHEESE CHALLENGE
A race with cheese at the main "piazzetta" square, live music and tasting from 3.00 PM
PIETRAFITTA 
THE WILD ASPARAGUS FESTIVAL – APRIL 21 TO 30
https://www.facebook.com/Proloco-Pietrafitta-1391223421200470/?fref=ts
TASTE A CHIANINA BEEF MEAT AND MONTEPULCIANO TOUR
Taste the best chianina beef in a meat farm, visit a winey in Montepulciano and discover Pienza
Here is an ideal program for you: 9.30 am Departure from il Fontanaro
10.45 am Guided tour to a prestigious Chianina beef farm and winery chianina cow gives one
of the top quality beef from which the well known florentine steak is prepared!
12.30 am Visit to the cellar and lunch with wine tasting accompanied by sliced cured meats,
mixed crostini, cheese, sample of chianina beef with seasonal vege tables, cantucci
(the famous tuscan biscotti!) with vino santo.
2.00 pm Visit to the second winery of the day with guided tour of an historical winery with tasting
of three doc and docg wines from Montepulciano, accompanied by tuscan sliced cured meats, cheese and crostino toscano.
3.30 PM Visit to the charming town of Pienza, partially redesigned in the renaissance and full
of breathtaking corners and panoramas. relax and enjoy a great homemade gelato!
6.00 PM Return to the villa driving along one of the most scenic drive in Val d'Orcia!
RELAX WITH A SPA TOUR
An afternoon between the relaxing water of a spa resort and Montepulciano with its great wines
1.30 PM Depart from il Fontanaro estate.
2.30 PM Spend an afternoon at a spa resort "Theia" in Chianciano Terme,
known for its special therapeutical water.
7.00 PM Visit to an historical winery in Montepulciano with wine tasting of their DOC and DOCG wines including the great "Nobile di Montepulciano".
8.00 PM Typical dinner in a local restaurant.
11.30 PM Return to il Fontanaro villa.
SARTEANO
April 29 to May 1 – Food show: Valdichiana Eating – WHERE: Piazza XXIV Giugno e Piazza Bargagli
| ufficio@stradavinonobile.it   http://valdichianaeating.it/
TERNI 
APRIL 14 TO 17 – UMBRIA JAZZ SPRING EDITION – https://www.facebook.com/UmbriaJazz.official/
VAL DI CHIANA
VISIT LA FOCE GARDENS .- UNESCO PATRIMONIUM . FROM IL FONTANARO VILLAS only 40 minutes driving-
OPENING DAYS 2017 (from March 25th to November 1st): Every Wednesday afternoon: 3pm, 4pm, 5pm, 6pm – Every weekend (Sat. and Sun.) and National holiday (April 17, April 25, May 1, June 2, August 15, November 1): 11:30am, 3pm, 4:30pm
TICKETS Individuals € 10,00 Children under 12 accompanied by an adult free
The ticket includes the guide and can be purchased at La Foce office (in the courtyard of the Fattoria) in cash only.
TERNI
UMBRIA JAZZ SPRING – APRIL 14 TO 17