Ballooning In Tuscany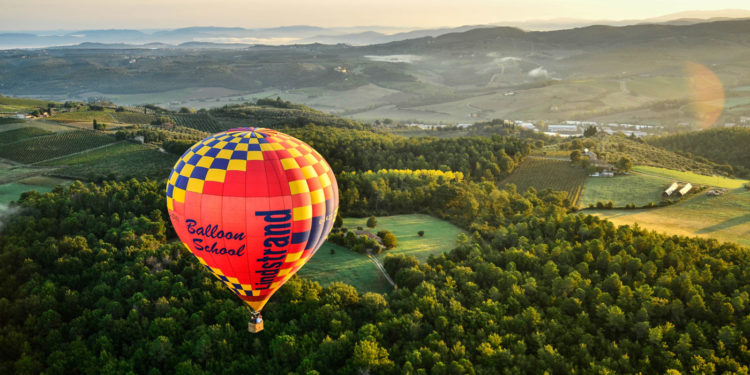 See Tuscany from above, with Ballooning In Tuscany.
A great Experience just one hour from il Fontanaro Organic Olive Estate and Villas. They are only 73 km from il Fontanaro.
This is the best way to experience Tuscany out of the ordinary. 
Ballooning In Tuscany is licensed in Italy for commercial passenger balloon flights. Off course all  pilots are professionals with 100 of experience hours.
Please note that all the take off start at sunrise for security, so you  need to wake up very early and be there before sunrise.
Also the Ballooning schedules depends on the weather conditions and season.
Tours, off course  goes with the wind, it is not possible to decide the itinerary by your own.
The Ballooning In Tuscany ride long one hour, but you should count between around 2 or 3 hours for all the experience.
After the Ballooning tour, they will organize a champagne breakfast for you with a local food tasting, from Pecorino Cheese, to local ham and the typical not salty bread, fresh brioche and more! Please advise in time for any gluten free or dietetic special request.
Group tours start from Montisi (Siena) while if you like to experience a private one you can also choose the closer site of Cortona half an hour from us, but for this service there is an extra charge.
I din't try the experience personally, but some off my guest who did it where really satisfied!
Please remember that reservations are final upon confirmation of availability and subsequent receipt of full payment.
Here are technical information for you:
Phone is   +39 338 146 2994      .
 Shared Balloon Ride with Champagne breakfast €280 per person from Montisi

Private Flight from Cortona, for two persons is: 1.250 euro.

Private Flight from Cortona, for four persons is: 1.770 euro.
We highly recomend this experience for Honeymooners! This is one of the best Tuscany experience you can have!

More info: http://www.ballooningintuscany.com/about.php