Christmas in Tuscany and Umbria
Christmas in Tuscany and Umbria….For An Unforgettable Christmas Feast, See Our Post.
This is a festive time filled with amazing things to do like visiting holiday markets and enjoying concerts. Here is a short list.
1st of December to 6th January Assisi is going to open its doors to the magic and warm atmosphere of the most evocative period of the year: the seraphic town will be wrapped in an enchanting setting. The crib art of Franciscan inspiration is going to pay tribute to the first crib in history made in Greccio by St. Francis in 1223. The House of Santa Claus at Palazzo Monte Frumentario will come alive with games and shows. The streets of the city and not only will see as main protagonist the Christmas Train, to the delight of children, but also families and all the many visitors who will be guests of the city.
1st of December to January 6th in Città della Pieve. http://www.cittadellapieve.org/
1st of December to January 6th in Montepulciano. Santa Claus' Village of Montepulciano  is a  unique experience for adults and children, a new and funny world where to spend in harmony and serenity the days of the Advent and your Christmas holidays.  http://www.nataleamontepulciano.it/ENG/
1st of December to 6th January  – Christmas in Cortona – Every week special Christmas market and every day ice rink.
1st to 26th of December in Perugia – Special kids at Città della Domenica 
1st of December  to January 6  also in Perugia http://www.nataleallarocca.com/
1st of December to January 6 in Paciano, Perugia Umbria.
Also special  cooking classes at il Fontanaro. Contact us to know more.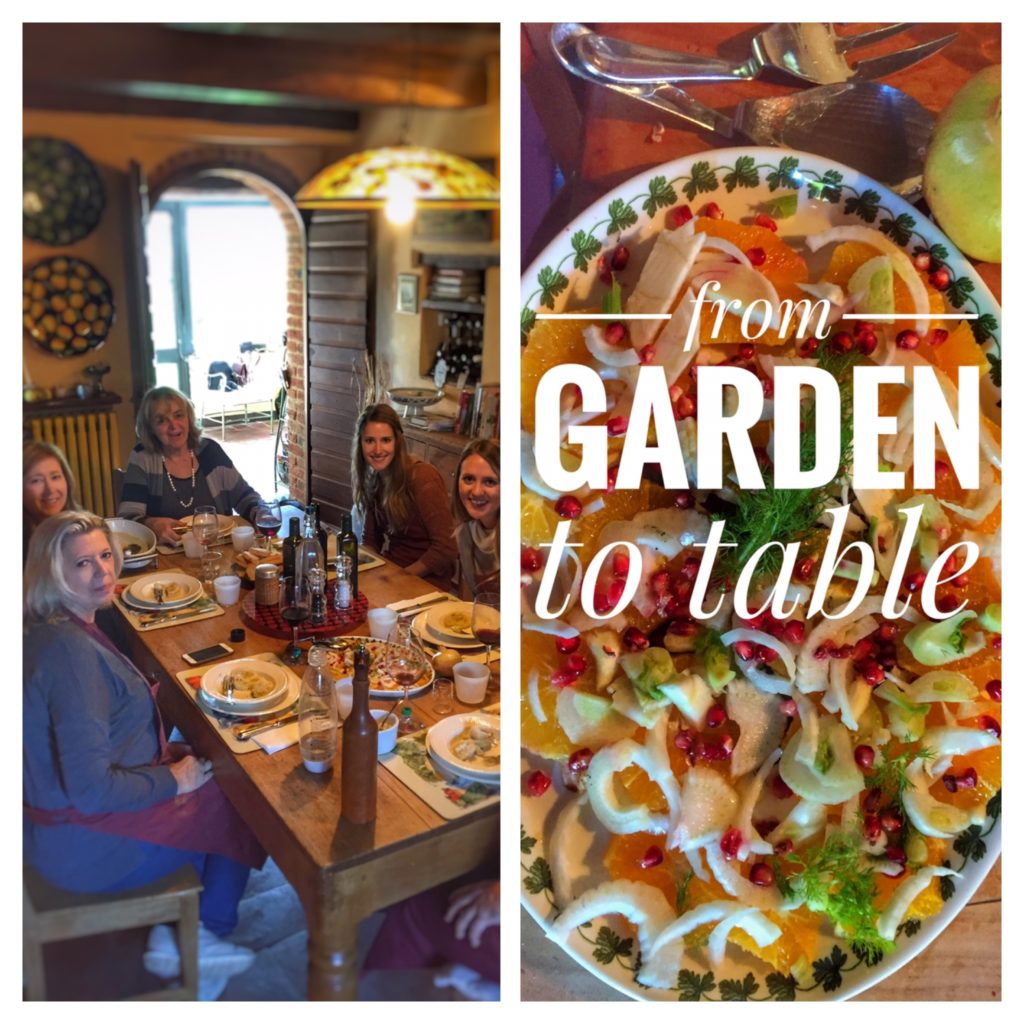 7th to 16th  of December Winter Onion Festival in Cannara
7th to 31st  of December visit the world largest  Christmas Tree in Gubbio
7th December until the day of the Epiphany, Deruta, the city of ceramics, is going to light up in order to host the many events and evocative initiatives created to wait together for Christmas. The Christmas events are going to open with the lighting of the largest ceramic Christmas tree in the world: a tree whose trunk is completely covered with 19 large ceramic cylinders, created and painted by local artists, and then decorated with more than 280 hand-painted ceramic balls, a unique artwork in the world.
8th of December on –  Enjoy skying in Tuscany. http://www.amiataneve.it/
8th December to 6th January in Montefalco.  Experience the magic of Christmas in one of the most beautiful villages in Italy immersed in the atmosphere of festivals including tastings, cribs, guided tours and entertainment, in the village of Sagrantino.
8th December Castiglione del Lago is hosting "Christmas with Chagall, fairy tales and other stories".
8th of December  – Chianciano  Terme – Thermal Spring by night at Piscine Theia 
28th of December to January 1 – UMBRIA JAZZ WINTER EDITION – http://www.umbriajazz.com/
29th of December in Perugia, at ala dei Notari di Palazzo dei Priori
Musical Band  Città di Gualdo Tadino Concert:  musica leggera, latino-americana e jazz Sesto Temperelli, direttore; Cristina Ghibelli, voce. At 5.30 PM
December 31 in Cetona, special dinner at Osteria del Merlo
January 1 in Orvieto – Gospel Explosion: New Direction Tennessee State Gospel Choir by Umbria Jazz Winter.
January 1 in Chiusi (Siena) free CONCERT  from FILARMONICA  of  CHIUSI City at 5.30 PM in Piazza Duomo 
January 5 in Chiusi – Special Social dinner at 8.00 PM at Terziere Sant'Angelo in Chiusi,  To book, call +39 0578 227667