RAMERIA MEZZETTI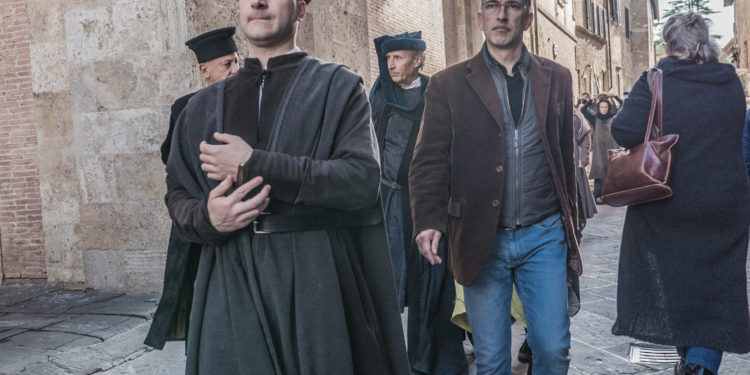 RAMERIA MEZZETTI THE COPPER ART "BOTTEGA" (Shop, in English).
A tour day in Montepulciano is not complete without Rameria Mezzetti – copper factory, museum and shop.
Cesare and Iolanda Mazzetti have inherited a long family tradition in copper crafting…150 years of history!
They did masterpiece for the Vatican City, Pope Benedetto and a lot of VIP all around the world!

We  have spent the best 2 hours in Montepulciano.  They are so friendly and welcoming  explaining us all secret about the world of copper art.
Cesare also did a small copper craft for us as memory of the visit. We really feel emotionalized watching his ability and romantic job.
This is how Cesare tells us his family history:
"At the end of the 19th century, my grandfather was a farmer. After falling from an oak tree, he had to stop this activity and came back to Montepulciano. He was good at metal working, so he started crafting copper. He used to buy rough copper from a foundry in Gran Sasso to make his pots. He also used to buy unfinished tableware near Lucca and lanterns in Florence. My grandfather was crafting copper and my grandmother started going to the markets to sell it. She used to go to Chianciano, Pienza, Petraio, Torrita. They had a horse calash. Then, after several years, they bought the first pick-up in Montepulciano: the Fiat 101. The driver was named Lupo Remo Cozzi: he died in 2001 at the ripe old age of 100!
In 1903 my father was a young boy and my grandmother sent him to learn the "fine" work from a master coppersmith named "Ghiotto". He learned with passion to craft jugs, pots, pans, tableware, artistic plates. My grandmother paid 10 soldos a week to the master coppersmith to teach him the "fine" work.
That is how the Renowned Rameria Mazzetti was born.
In the meanwhile, Master Ghiotto died, and my father bought all his tools, stamps, anvils, forges, lathes, which dated back to 1857. I still use them with love to craft copper: they are wonderful! On them I learned to craft flowers, leaves, etc. The pedal forge, with his wind wheel, is still working.
In 1929 my father married my mother. The following years were painful as my grandparents and some of my uncles died for several tribulations. My father and his brother were left alone, and the workshop slowed down. But my father didn't give in and carried on working copper, with my mother's support.
During Second World War, my father was forced by Fascists to travel around Tuscany to collect the copper needed to make munitions, as Italy was short of copper mines. I remember that when he came back home he used to say: "Each stroke given to a jug, to a pot, is a stroke to my heart."
I was born in 1936 and with my older brother I spent all my time in the workshop. Since there was no copper available, we became tinsmiths.
The reputation of our workshop kept growing and drew the attention of some journalists. I was impressed by the answer he gave to their question: "When you retire, who will continue?" My father answered: "I hope that my son Cesare will leave his company and come back to copper crafting, as I taught him." This made me think how strong my love was for copper and for the beauty of creating, molding, chiseling. My wife and I promised my father that we would continue the family tradition.
http://www.rameria.com/english/

HOW TO GET THERE: Leave your car at car park n.8 (the so called "bersaglio"), walk along the upward pathway that leads to the town, stop and admire the valley lying at your feet, then take Via del Poliziano toward right until you reach Via dell'Opio nel Corso, we are at n.64.
Tel. +39 0578/758753
email: bottegadelrame@rameria.com
If you like to go and visit the "rameria" don't hesitate to contact us, it will be a pleasure to advise Mr. Cesare in advance for you 🙂