Slow Food Umbria and Tuscany 2022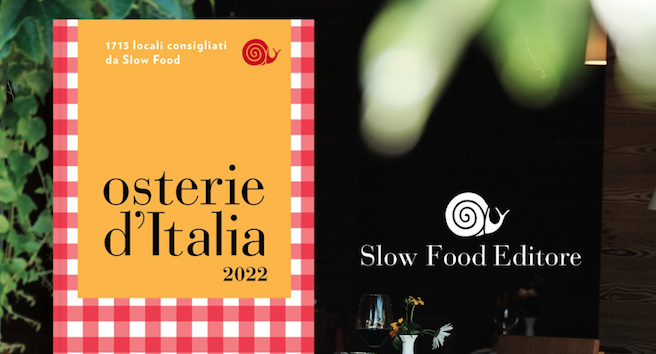 Here are  the new Osteria (small local restaurant) Slow Food selection 2022.
They have checked out  almost among 1713 restaurants chosen for their warm welcome, local cuisine, careful selection of raw materials and the right price.
You can buy the new guide book also online. 
Here is for you the list of the best for your next vacation in Tuscany and Umbria.
"Osterie d'Italia 2022", snails awards by Slow Food in Umbria
L'Acquario, Castiglione del Lago (PG)
La Miniera di Galparino, Città di Castello (PG)
Tipico Osteria dei Sensi, Montone (PG)
I Birbi, Perugia
Stella, Perugia (We've been there several times, it is great!)
Il Capanno, Spoleto (PG)
"Osterie d'Italia 2022", Snails awards by Slow Food in Tuscany
La Lina, Bagnone (MS)
Il Tirabusciò, Bibbiena (AR)
Osteria da Mi Pa', Capannori (LU)

Il Grillo è Buoncantore

, Chiusi (SI)
La Solita Zuppa, Chiusi (SI)
Osteria del Teatro, Cortona (AR) We always go there when in Cortona!
Da Burde, Firenze
Il Cibreo Trattoria, Firenze
La Burlanda, Fosdinovo (MS)
Mangiando Mangiando, Greve in Chianti (FI)
Oste Scuro, Grosseto
Il Mecenate, Lucca
Da Roberto Taverna in Montisi, Montalcino (SI)
Belvedere, Monte San Savino (AR)
L'Oste Dispensa, Orbetello (GR)
Caveau del Teatro, Pontremoli (MS)
La Tana degli Orsi, Pratovecchio Stia (AR)
Caciosteria dei Due Ponti, Sambuca Pistoiese (PT)
Antico Ristoro, Le Colombaie, San Miniato (PI)
Il Conte Matto, Trequanda (SI)
Buonumore, Viareggio (LU)