Chianti Classico Wine tours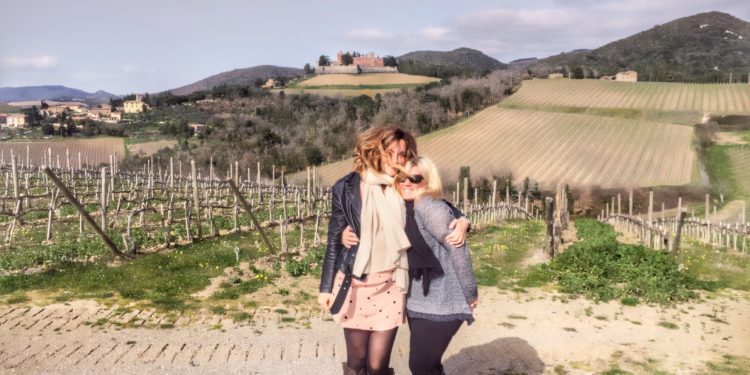 A Day to the undiscovered

Chianti Classico Wine tours



Yesterday we had a great day with our friends from Altour Company and Alessandra a private tour guide on the route through the hills of Chianti Classico hills of Tuscany.
We started from our villas of il Fontanaro Organic farm house and villas and we follow the road to Castiglion del Lago, Siena exit Casetta.
No comments for the breathtaking views, medieval villages, incredible food where we have breathed and  the genuine atmosphere of our  Tuscan heritage.
More than all we love Castello di Brolio, the oldest winery of Tuscany.
Where: Castello di Brolio, 53013 GAIOLE IN CHIANTI – (SI) Tel: + 39 0577 7301 Fax: + 39 0577 730225
We've visited also the museum, four rooms that show you a big part of the Italian History and of the Ricasoli family.
We had a fantastic wine tasting at the Enoteca and a memorable lunch with fresh organic dishes paired with wines at Osteria il Castello.
A great fettuccina with truffle, the Tuscan Ribollita and the selection of appetizer where memorable.
We've spent around four hours between lunch, tour and tasting.
After this we had a short shopping tour at Prada, only 30 minutes by the castle, but we suggest to keep going with a cultural tour in Siena or another wine tour there.
LIST OF TE MAIN CELLAR AND WINERIES that we like:
Castello di Volpaia  
Loc. Volpaia 53017 RADDA IN CHIANTI – (SI) Tel: + 39 0577 738066 Fax: + 39 0577 738619
Castello d'Albola Soc. Agr. Semplice
Via Pian d'Albola, 31, 53017 RADDA IN CHIANTI – (SI) Tel: + 39 0577 738019 Fax: + 39 0577 738793
Castello di Cacchiano   
Monti in Chianti, Loc. Cacchiano 53010 GAIOLE IN CHIANTI – (SI) Tel: + 39 0577 747018 Fax: + 39 0577 747157
Badia a Coltibuono   
Loc. Badia a Coltibuono 53013 GAIOLE IN CHIANTI – (SI) Tel: + 39 0577 74481 Fax: + 39 0577 749235