Seven day tour of six of the worlds finest wines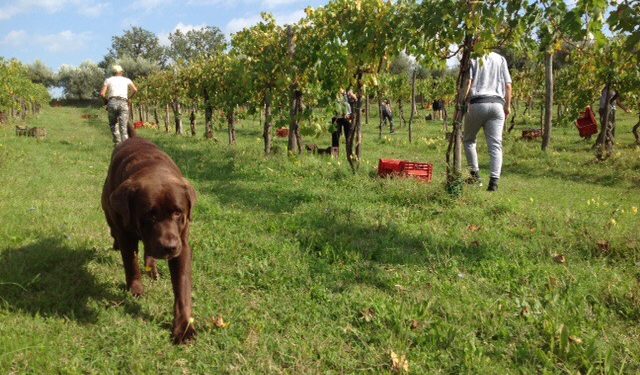 Seven day tour of six of the worlds finest wines
Wine Spectator is the most highly esteemed international ranking system for wine, and we are proud of the recognition that it gives to our vineyards.
Here is the Seven day tour of six of the worlds finest wines list with us!
This year, like last year, sixteen Italian wines are among the top 100 wines worldwide according to Wine Spectator. Seven of them are from our Tuscany.
At our organic farm in il Fontanaro you can familiarize yourself with some of these gems. I'm crazy for most of the wines listed, but the Nobile di Montepulciano 2010 from Avignonesi is a favorite, a wine that we love to introduce at our wine tastings.
The Avignonesi Nobile di Montepulciano 2010 was ranked fifty-eight this year, a well deserved recognition. It will be our star of the year.
In the coming season we will explore the top Tuscany wines, with daily tours to the many vineyards that surround us.
We invite you to spend seven days with us here in Tuscany, touring seven of the best wines of 2013.
Seven day tour of six of the worlds finest wines. As an ideal schedule we propose the following:
Day one and two : visit two vineyards of Montalcino, the Montosoli and the Altesino.
Day three: Chianti Classico at Poggerino at Radda in Chianti.
Day four: Nobile di Montepulciano by Avignonesi.
Day five: Bolgheri at Querciabella.
Day six: Badia a Coltibuono in the Chianti area.
Day seven: join us for a tasting of last years Wine Spectator favorites.
Below are Wine Spectators' top Italian wines. Marked in red are wines from our region.
6 Giuseppe Mascarello & Figlio Barolo Monprivato 2008
16 G.D. Vajra Barolo Albe 2008
18 Poggerino Chianti Classico 2010
21 Le Macchiole Bolgheri 2011 
24 Livio Sassetti Brunello di Montalcino Pertimali 2008
50 COS Cerasuolo di Vittoria Classico 2010
58 Avignonesi Vino Nobile di Montepulciano 2010 
61 Produttori del Barbaresco Barbaresco 2007
66 Macarico Aglianico del Vulture Macarì 2007
80 Querciabella Maremma Toscana Mongrana 2010
82 Mamete Prevostini Valtellina Superiore Sassella 2009
86 Fontanafredda Barolo La Rosa 2008
91 Mastroberardino Taurasi Radici Riserva 2006
94 Schiavenza Barolo Prapò 2009
96 Altesino Brunello di Montalcino Montosoli 2008
100 Badia a Coltibuono Toscana Cancelli 2011