July around Dolciano and Paciano
Every day enjoy a nice aperitivo at the main  Piazzetta di Cetona where is Enoteca del Merlo and Pizzicheria Fema, Wine bar and market. This square is closed to cars so it is nice to go there also with kids and dogs!
Also nice is the Chioschetto di Chiusi, just in front of the Etruscan Museum, with garden and music each weekend.
In Sarteano the best Aperitivo is at Chiostro Cennini 
If you like biking, try in Cetona or Montepulciano the e-bikes.
E-Bike Monte Cetona, the office is at the village of Cetona
If you like wines: at Madrevite are organized nice sunset wine aperitivo.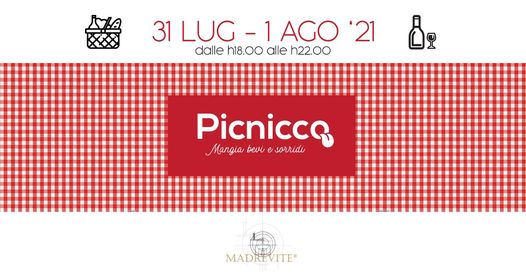 Every Friday there is the lake fish aperitivo at Pesce D'Oro in Chiusi.
If you like Music

: July 3dt there will be the Santa Mustiola (Patron of the city) concert. At 9.30 Pm at Piazza Duomo, free entrance.
do not miss Umbria Jazz in Perugia, this summer will play also Ben Harper. 9th to 18th of July,  https://www.umbriajazz.it/en/
We will for sure go to Stefano Bollani "Piano Solo tributo a Chick Corea" • Billy Hart Quartet feat. Ethan Iverson on July 10th.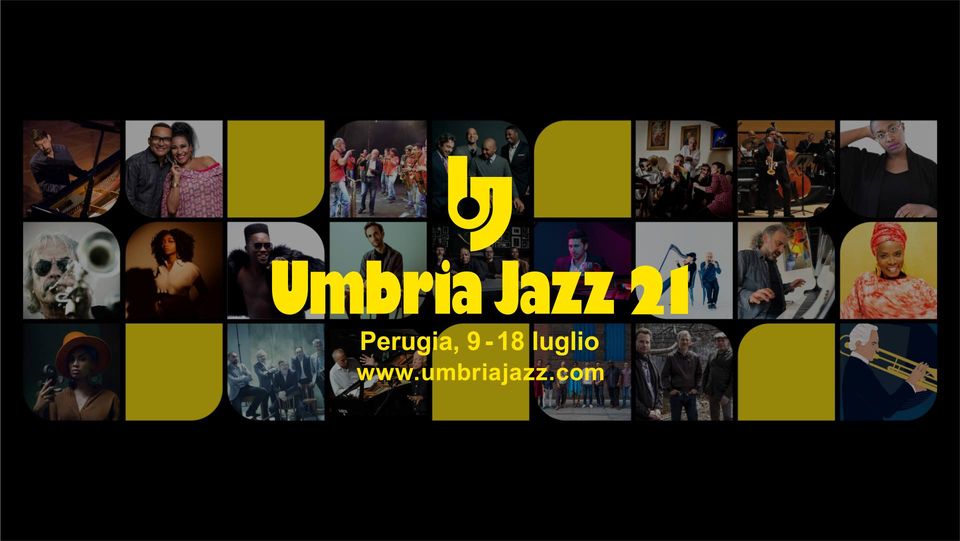 The 2nd and the 3rd of July 2021 Piazza Matteotti in Torrita di Siena will be the main stage of the 

Torrita Blues

Festival's 33rd edition.
Also do not miss  the 33  Edition of Terre di Siena. It will open, Friday 23 July, 6.30pm
at TEATRO VERDI, FLORENCE  with Orchestra della Toscana – Andrew Litton conductor
Francesca Dego violin Sergei Nakariakov flϋgelhorn Alessio Bax piano. info@itslafoce.org for details.
And from 15th of July to 1st of  August: music, dance, theatre and culture with  Cantiere Internazionale d'Arte.
Zalfest_official – https://www.facebook.com/ZALFestOfficial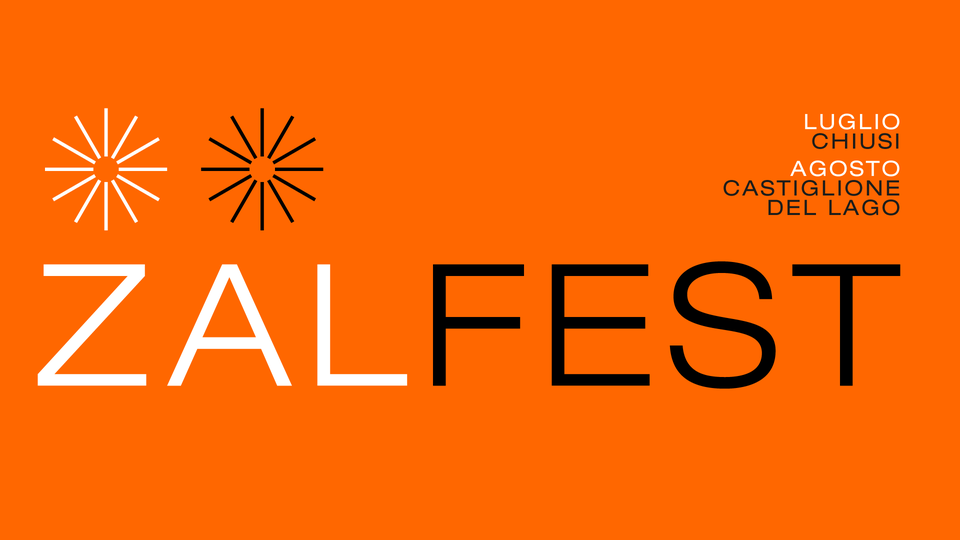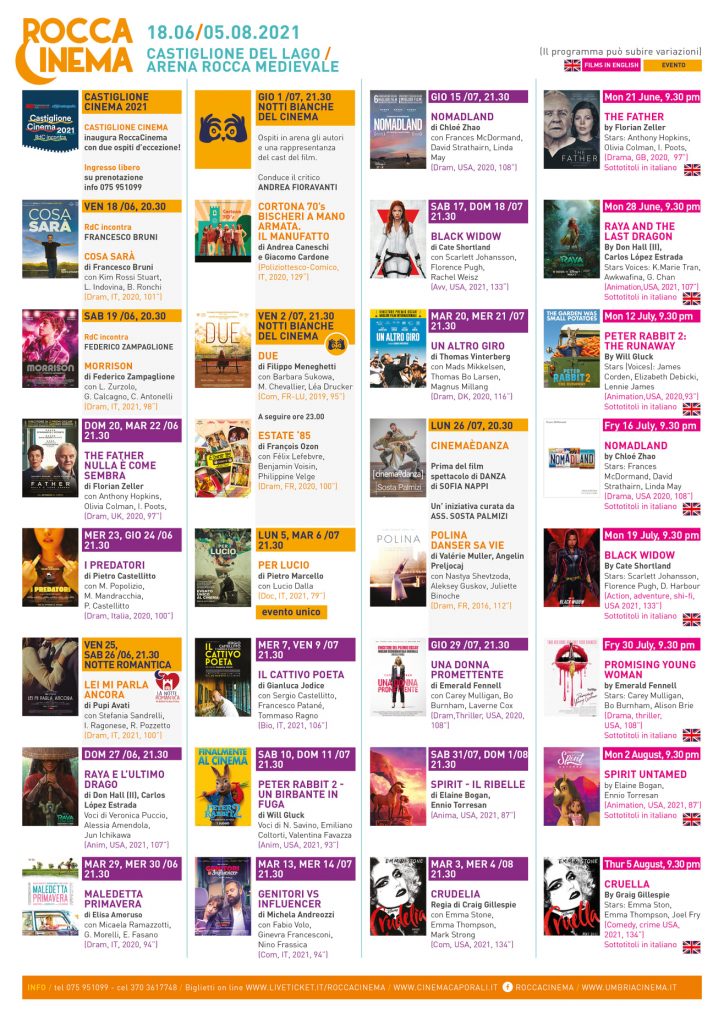 If you are travel with kids:  during Umbria Jazz there are several free music classes for kids all ages at Giardini del Frontone, from drums to singing jazz! To book in advance!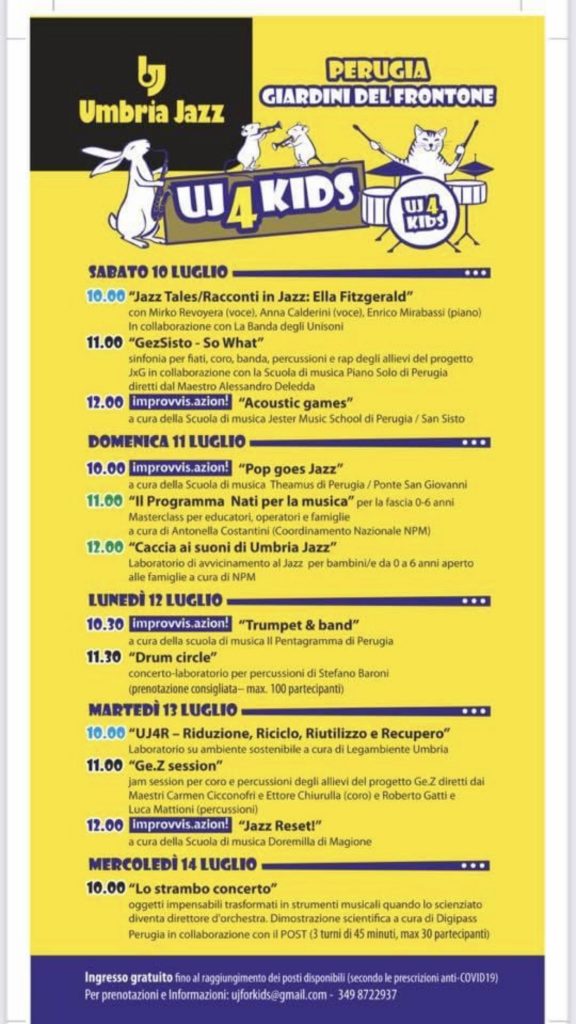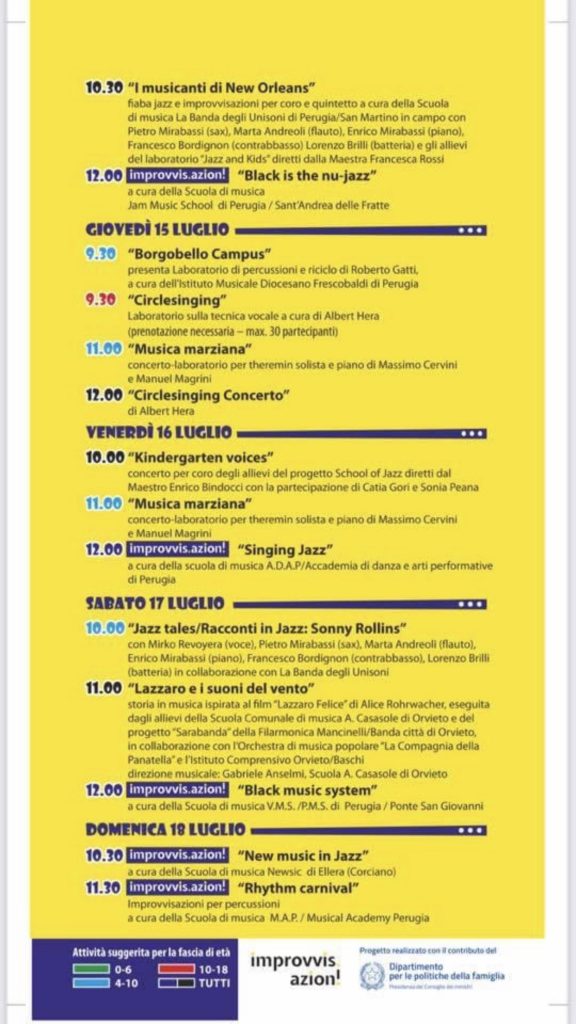 NOTES:
This summer the

Siena Palio

will not be held on July 2, and they are discussing now about the August 16th Edition.