Hiking in Tuscany and Umbria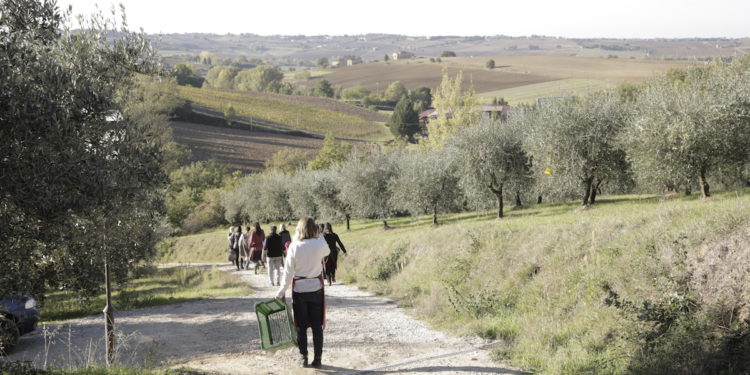 Hiking in Tuscany and Umbria is one of the best activities to choose.
From our villas at il Fontanaro you can do a circle walk first up the hill to Panicale in one hour to enjoy a great coffee at the "piazzetta. Then you can return on the road between Panicale and Paciano with beautiful views of the lake valley below. This is a shorter 45 min or so return.
For a longer 13 Km hike you might want to hike all the way to Città della Pieve. Be sure to arrange for a ride back.
https://goo.gl/maps/B8Cqs8Z7DTJTuHnS8
The walk from Paciano to Città della Pieve is one of the most beautiful anywhere in Italy.  It's not tough if you're reasonably fit and have about 3-1/2 hours and a pickup to get back to the starting point.Head up to the top of Monte Pausillo on Via Libertà, then to Tre Laghi where you'll swing around a ridge and walk down an old farm road then through fields and wood to Tre Mulini and finally on a well-marked path into Città.  A GPX or additional instructions are a must because the way is not completely marked, but this is a walk well worth it.
Also if you are at villa Tartagli you are on the hiking route to Monte Pausillo with great scenery of both valleys and Città della Pieve  from the top. This will take about 1 hour and 15 minutes round trip at a leisurely pace.  There is a wonderful picnic area on your left before you  reach the top where you can rest up.
https://goo.gl/maps/iL5cRLwfqnKqKTFj6
If you are at Fontegirasole you might like a sunset walk via Vocabolo Malalbergo and Vocabolo tre case. There are great views of sunflowers in the summertime.

If you would like to discover Tuscany OVVAI organizes and manages excursions within the Val d'Orcia.
They walk across Tuscany, Val D'Orcia, expertly guiding people of all ages to discover the beauties of this natural reserve, a Unesco world heritage site since 2004. https://www.ovvai.com/?lang=en
They organize, Wellness Hike, Wine Lovers Hike, Full Hiking Day and Hiking & Picnic in Pienza, Montalcino, Bagno Vignoni and Pietraporciana.  
If you like to discover more around Umbria, and closer to il Fontanaro, please contact our friend Giuseppe Daniele, +39 3279739039. https://www.geaenergytrekking.it/
Both organize taylor-made hike, also for families with kids.
For more hikes, please see:
http://www.lagotrasimeno.co.uk/pg.itinerari.scheda.php?id=30&cat=1&lang=en