Discovering Civita di Bagnoregio in a few hours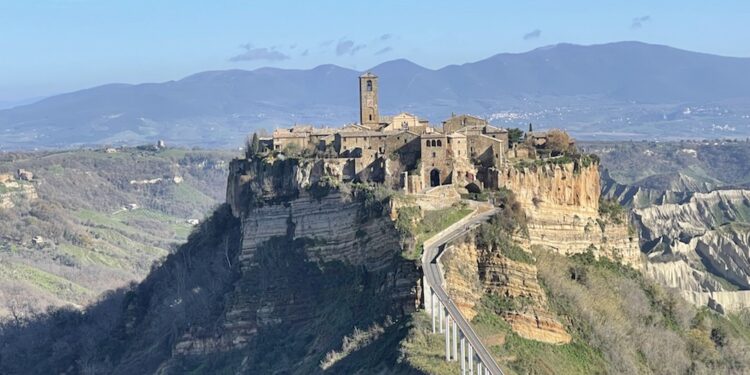 This  suggestive medieval village, known throughout the world as "the dying city",  due to the progressive collapse of the perimeter walls and the consequent abandonment by the population over the last few centuries, offers a truly surreal and unforgettable atmosphere.
It is said that its name Bagnoregio derives from the original intent that determined its construction: Civita hosts a thermal station, which would have been commissioned by the Lombard king Desiderio in order to cure his illness.  Hence the city assumed the name of Balneum Regis (literally "the king's bath"), still assonant with the current name.  Today there are only 13 residental hinabitants.
Throughout its history, Civita di Bagnoregio has seen a succession of Etruscan civilizations, Roman civilization, the Middle Ages and the Renaissance.
How to reach Civita di Bagnoregio:  The best way to reach Civita di Bagnoregio is by car along the A1 Rome – Florence motorway, exit Orvieto.  By train, the closest stations are Viterbo and Orvieto and it is then possible to reach Civita by bus or by renting a car.
 Ticket: To visit the village you will have to pay an entrance ticket of 5 euros.  You can buy it at the ticket office in Mercatello, near the bridge, or at the ticket office in Piazzale Battaglini where one of the car parks is located. From Piazzale Battaglini you can take the shuttle to the Belvedere or go on foot (it takes about 20 minutes). You can also buy the ticket online together with the audio guide: https://www.getyourguide.it/civita-di-bagnoregio-l1593/bagnoregio-biglietto-d-ingresso-a-civita-di-bagnoregio-e-audioguida-t425996/
What to eat: Civita di Bagnoregio cuisine is influenced by the Viterbo tradition, made of simple and genuine ingredients, which draw all their wealth from the territory.
Piciarelli are a classic (spaghettoni made with water and flour). Another must have is the wild boar and the cured meats. These lands are also a fertile base for the growth of porcini mushrooms and black truffles, strong flavors that enrich the taste of this simple cuisine.  Cherries: yes, in May, in Civita you can taste excellent cherries! In fact, Celleno is less than 15km away, famous for its large crops.
 Where to eat: (no one restaurant accepts reservations in Civita)
Alma Civita The typical cuisine is of Lazio origin, but it is also possible to choose from vegan dishes.
L'arco dei desideri: it  allows, with a price range that varies from 3 to 10 euros, to taste Italian, Mediterranean, street and gastronomic food.
Osteria al Forno di Agnese.  Do you want to feel at home even on vacation? Osteria al Forno di Agnese is the right place. With dishes of Italian and Mediterranean origin, a limited price range and a simple and welcoming location, it is possible to relax and spend an unforgettable moment.
Il Pozzo dei desideri: Concentrated in a structure never seen before, which was previously used as a well, furnished with professional accessories and perfected by an elegant and refined cuisine.
Magna Civita: With a price range that varies from 15 to 65 euros, it is possible to savor delicious Italian, contemporary, Lazio and vegan cuisine .
When to Visit: In Civita di Bagnoregio several special events are held throughout the year, including the Palio della Tonna, on the first Sunday of June and the second Sunday of September. It takes place in Piazza San Donato and it is a race on the back of a donkey: the objective is to grab the Palio. The Good Friday procession is also very suggestive, a procession of the SS Crucifix in costume, particularly loved above all by believers.
Please note that each year Civita hosts almost 700.000 visitors, therefore it could be better to choose to go in the low season.