The best things to do in Tuscany and Umbria in May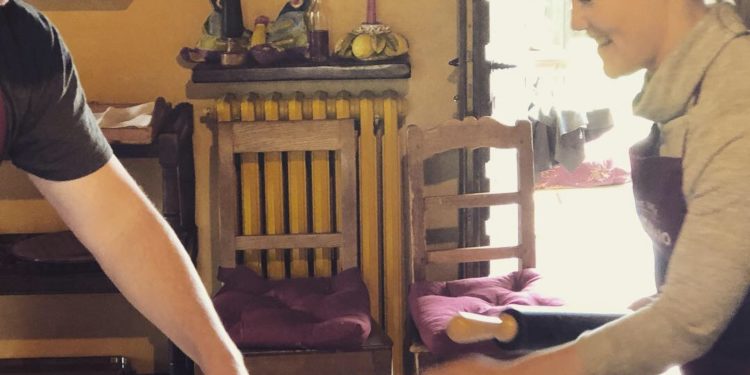 The best things to do in Tuscany and Umbria in May, including popular events, festivals, attractions and tours, free activities and entertainment. See upcoming events and what's on in Tuscany and Umbria in May.
First of all do not miss the yearly event of CANTINE APERTE, Open cellars.
This year it will be May 26 and 27.  
Since 1993, member wineries of Movimento Turismo del Vino open their doors to personally meet the public on the last Sunday in May
http://www.movimentoturismovino.it/en/events/2/cantine-aperte/
Arezzo Vintage Market
May 5 and
http://www.fieraantiquaria.org/
ASSISI
April 30 and May 1 Assisi vintage market
https://assisiantiquariato.it/
CALENDIMAGGIO, MAY 2, 3, 4 and 5.

http://www.calendimaggiodiassisi.com/programma
not to miss!
Bevagna
Visit Umbria from an hot air balloon. Start early and begin your enchanting Hot Air Balloon Ride, Umbrian experience with a pick-up from your accommodation in Assisi, Montefalco, Perugia, Spello, Trevi, Foligno, Bevagna, Spoleto,Todi or simply meet them at Cantina Dionigi (Via Madonna della Pia, 44 – Bevagna).
The take-off site is only 200m from the meeting point.
More at: http://www.balloonadventures.it/
On facebook: https://www.facebook.com/balloonadventures/
Buonconvento
Nova Eroica last day of Events.
TUESDAY 1 MAY
10:00 Piazzetta del Poggio – Circus lab for kids
10:00 Via Oscura – Nova Eroica Art Gallery
10:00 Viale della Libertà – Fitness and wellness area
12:30 Piazza Matteotti – Nova Eroica Street Restaurants
15.30 Via D. Alighieri – Finish of Eroica Under 23 International (Rai Sport)
16.30 Via D. Alighieri – Eroica Under 23 Awards ceremony
17:00 Teatro dei Risorti – Cooking Show care of Ronald Bukri, Osteria Osticcio, Montalcino with wine-tasting
18:00 Eroica aperitif
19:30 Piazza Matteotti – Nova Eroica Street Restaurants
Music show from 3:00 PM
Castiglion del lago
Spring aircraft meeting
Chianciano Terme
Celle sul Rigo (San Casciano dei Bagni)
May 25 Pici Pasta festival – 
www.sagradeipici.it/ This is the traditional Tuscan pasta off course home made only!!
Città della Pieve
Foligno
May 3 to 6 – Cibi dal mondo – Food from the world – street food event – more details at http://www.cibidelmondo.it/
Lake Trasimeno
Rent a rubber boat at Monte del lago in Magione, only 30 minutes from il Fontanaro
http://www.acquadolcesailing.it/en_index.asp
Gubbio
May 15  The ceri festival– This is a yearly celebration not to miss.
http://www.ceri.it/ceri_eng/program/index.htm
MONTALCINO
MAY 27 AND 27, EROICA – http://www.eroicamontalcino.com/
Paciano
Flower Carpet dinner
The annual Infiorata Group's Dinner is May 12, Saturday , at San Sebastian's hall in Paciano. Please join us..book soon!!!  Dinner cost including wines: 15 euro per person. Limited seating. Email to book: pegleon@gmail.com
Perugia
PERUGIA FLOWER FESTIVAL at Giardini del Frontone.
May 4 to 6 http://www.perugiaflowershow.com/
Perugia street food festival 17 to 20 of May 2018 – free entrance at Giardini del Frontone.
http://www.streetfoodontheroad.it/
May 18 to 20 – Porkettiamo, pork festival at San Terenziano
Piegaro
Glass Festival at the glass museum
24 to 27 of May https://www.facebook.com/museodelvetrodipiegaro/
Pienza 
The 32° edition of Pienza Flower Show – May 1 to 13
May 6 – Organic Street market.
Ans if you look for a good gelato in Pienza go to Buon gusto!
 Radda in Chianti
Local wine festival – May 26 and 27. Radda nel Bicchiere is an event with which Radda offers to its visitors and wine enthusiasts the possibility to discover the wines of this splendid village in Chianti.
An engraved glass, a curiosity to taste and some time: this is all you need to make your way along the streets where more than twenty producers will present their best wines.
Vaiano – Madrevite Winery – happy open wine cellar dinner
You can book  it via: https://www.madrevite.com/   Saturday 26 from 8.00 PM