September in Umbria and Tuscany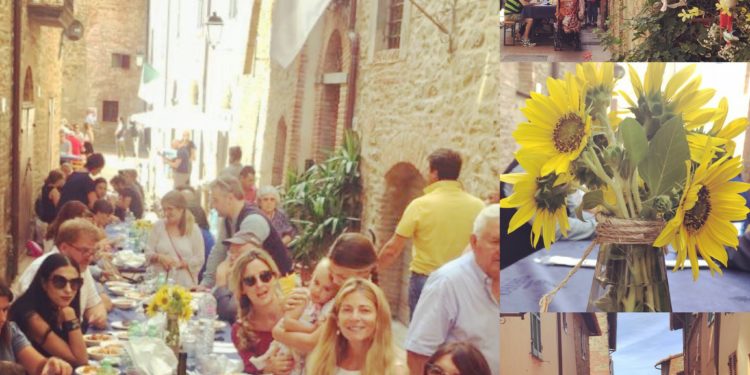 September in Umbria and Tuscany is one of the best times to visit because of the beautiful weather, smaller crowds and the grapes harvest.
Immerse yourself in the country slow living of Umbria and Tuscany, take part to the Fontanaro Organic farm and villas events!
Just to have an idea about life in Umbria, have a look on this video!


Here is a short list of things to do and see in Umbria and Tuscany
AREZZO
September 5 and 6 around Piazza Grande, the national antique market!
September 18, 19 and 20 – Street food Festival  at Parco il Prato (historical city area)
https://www.facebook.com/events/1627395047501661/
AREZZO – SAN SEPOLCRO – PALIO DELLA BALESTRA
13th September 2015
It has been a tradition since the Middle Ages that every year in May the crossbowmen from Sansepolcro go to Gubbio to compete in honour of Saint Ubaldo, and on the second Sunday of September the crossbowmen from Gubbio return their visit and compete in honour of Saint Egidio.
AREZZO – Castel San Niccolò – Strada in Casentino STONE CARVING EXHIBITION – The old town centre turns into an open-air museum hosting the works of artists and pietra serena stone carvers.
AREZZO AND THE Giostra del Saracino , Joust of the Saracen.
It is held twice a year, a night version on the third Saturday in June and the second on the first Sunday in September.
BUONCONVENTO, SIENA 
MICRO BREWERY BEER FESTIVAL
CANNARA (PERUGIA )
The Onion festival – September 2 to 6 and 8 to 13 – https://www.facebook.com/festadellacipolladicannara

CASTELNUOVO BERARDENGA, WINE FESTIVAL IN ITALIAN, FESTA DELL'UVA!
Where: Borgo di Vagliagli. It is held during the last week of September in the village of Vagliagli and with numerous booths for tasting and buying the typical products of this part of Siennese territory, with special attention to the excellent Chianti wine of the area.
 CASTIGLION DEL LAGO – ISLAND POLVESE

September 4 to 6 – https://www.facebook.com/isoladiEinstein
September 18 to 20 – NOISE FESTIVAL – at la Darsena Beach Club
CHIUSI CHIANCIANO
September 4 to 6: Ruzzi della Conca festival, food and events at the new town of Chiusi (train station area) + street food and shopping all day on Saturday and Sunday.
THE WINE FESTIVAL – SEPTEMBER 19 TO 24 THE PREVIEW AND 25 TO 27 SEPTEMBER THE FESTIVAL – not to miss! Only 13 minutes from il Fontanaro!
With il Fontanaro team, VIP pass!
http://www.festadelluvaedelvino.com
CITTA' DELLA PIEVE
September 14 – Theatre Avvaloranti , at 9.15 PM . "Summer Solstice" –  Myang Kho Jae – soprano , Ensemble OrvietArmonico comprising: Dino Graziani – violin ; Luigi Capini – purple ; Joseph Sweet – cello ; Rita Graziani – flute ; Riccardo Cambri – piano . Info promopieve@cittadellapieve.org Tel . +39 0578291236 , 0578299375 .
September 24 to 27  – Celebrations in honour of Terziere Borgo Dentro –
http://www.terziereborgodentro.it/index.php/it/
CORTONA AND THE ANTIQUE FESTIVAL
22nd August – 6th September 2015 – It is one of the most important antique furniture fairs in Europe.
The exhibition is housed in Palazzo Vagnotti, a superb example of XVII century architecture, located in the old town centre. More than 40 exhibitors are rigorously selected by a special commission. Furniture, jewellery, tapestry and bronzes are some of the objects displayed together in the exhibition.
FIRENZE AND THE RIFICOLONA FEST
September 7 and 8 . One of Florence's oldest festival held in the Piazza of SS Annunziata on the eve of the birth of the Virgin.
FOLIGNO
Up to September 13 – the Quintana Joust – http://www.quintana.it/

Do not miss the September 13 Joust at 3.00 PM
September 24 to 27 – FIRST DISHES FESTIVAL, "I PRIMI D'ITALIA" – more info at: http://iprimiditalia.it/
GREVE IN CHIANTI AND THE CHIANTI WINE FESTIVAL
SEPTEMBER 10 TO 13
http://www.greve-in-chianti.com/it/2010_wine_festival.htm#.VY_xM0XbxYQ
MONTEFALCO
ENOLOGICA (WINE FESTIVAL) 2015 (WEEK 3 OF SEPTEMBER  – 18 to 20)
http://www.enologicamontefalco.it/
MONTEPULCIANO
ACQUAVIVA ROCK FESTIVAL  September 9 to 13 – free entrance – every night from 8.00 PM
September 20 – at 10.00 AM. Historical parade along the towns vue starting from Town Hall in Piazza Grande to reach the Sanctuary of St. Agnes for the Mass. Following heralded the Flag-Wavers and Tamburini
PACIANO
1000 E UNA UMBRIA – Sunday September 13 
AN ORGANIC LUNCH ALL AROUND THE MEDIEVAL VILLAGE COOKED FROM THE LOCAL ASSOCIATIONS. Come and taste the special umbrian pasta, meat and bakery, and off course river of Sangiovese wines! Cost per person around 15 euro.
During the lunch: live music and fun!
PANICALE
WINE FESTIVAL (September 5 and 6, 7 and 11 to 14)

From 1926 the local Umbrian wines from Panicale are shown at the village with mask parade music and fun!
http://www.benvenutiapanicale.it/festaUva/festa_Uva_%202014/festa_uva_2014.pdf
PERUGIA
September 12 and 13 the Flower Festival, all day long at Giardini del Frontone
September 25 – The green night – check the hastag #nottegreen to see whats going on in Perugia. All about the green living around the historical area of the city.
PIENZA AND THE CHEESE FESTIVAL IN ITALIAN "PECORINO DI PIENZA FESTIVAL"
Every first Sunday of September – This Year August 31 to September 6
http://www.pienza.com/pecorino.htm#.VY_x1EXbxYQ
PANZANO IN CHIANTI
17 TO 20 SEPTEMBER 2015 – This is a wine festival held on the third weekend in September and the preceding two days in the main square of Panzano (Piazza Bucciarelli). Wine from many of the Panzano wineries is available to be sampled. The procedure is to buy a tasting glass for 12 euros.
http://www.panzano.com/important-dates/important-dates-eng.htm#.VY_xbUXbxYQ
SIENA AND THE SELFIE RUN
September 19 – at Piazza della Posta, 6.00 PM
https://www.facebook.com/events/1634827476729966/
Please check this post September in Umbria and Tuscany
once each two weeks to have more and more updates