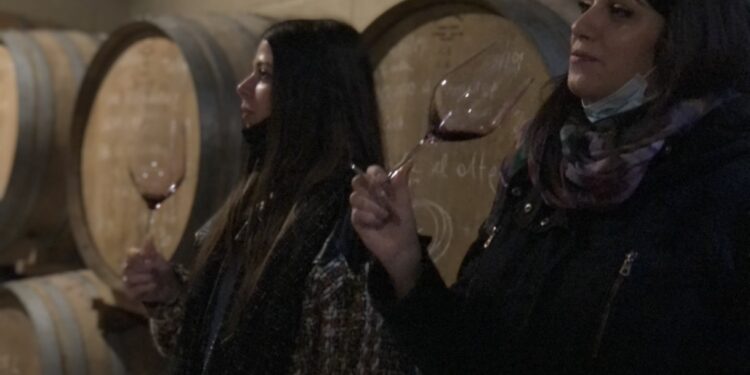 stefano amerighi
One of the best Tuscan wines  with Stefano's Amerighi Syrah.
Walking through Vini naturali  (natural/real wine exhibition) we discovered the superbe Syrah by Stefano Amerighi.
He, his wife and his young year daughter  are really  a special and welcoming family. We had immediately a feeling with them!
He is producing the best  Syrah of Italy, recognized world wide!
He has been recognized the best Italian Wine Maker for Gambero Rosso, (a great Italian food and wine media Company) in 2018. This year Vini d'Italia 2021 Stefano Amerighi Cortona Syrah '17  has achieved the Tre Bicchieri Gambero Rosso.

Stefano Amerighi biodynamic vineyard face the sunset on Cortona, we will go   to visit his cave and vineyard….
Here you are some more info about him and his wine!
History of the Company
The farm, Stefano Amerighi, was born from a wish that matured over the years, to be able to produce a grand Syrah through the farming traditions of the family, passion, knowledge in the world of wine and the practice of biodynamics.  Today, Amerighi's intention is to propose a natural practice as an alternative to conventional agriculture through the cultivation of cereals, vegetables and fruit to the breeding of animals, together with the production of a great Syrah!
 Vineyards and wines highlights:
The company covers a total surface area of approximately 14 hectares of which 8.5 have been destined as vineyards, the realization of which was preceded by an in depth geological investigation carried out in 2002 by Dr. Bruno.
The study highlighted a clayey matrix with a strong presence of silt, slightly calcareous soil, and well equipped with micro-elements, and has suggested, together with an onsite climatic investigation, the choice for cloning, rootstocks and plantation order.
This area was drained by Leopold the grand Duke of Tuscany and it was covered by water. There are also a lot of fossil founded here! This is really a reach soil!
From 7,000 vines per hectare, approximately 4,000 kilos of grapes are obtained, with a production of not more than 600 grams per plant. The Syrah is more delicate than Sangiovese and need more water, that soil, being very deep,  keep the water for the summer.
All this is done to succeed in bringing the healthy bunches to maturation and to consent to make a wine  free of corrective and chemical products.
 At his farm there are also some original Chianina Cows, to enhance the agricolture heritage and few cats who may be the       reincarnation of his lovely season stager from the best Italian Academies of wines!
Stefano Amerighi is now producing wines in Sicily through a new experimental vineyard in the area of Marsala with other great five organic wine makers.
He is also producing a new craft beer that must vintage 3 years, The first production will be on the market next year.  (Done by its own organic grains off course!)
Stefano Amerighi is one of the very fews who is aging his wines with the purity of ceramic.
He is also keeping high  the tradition of  grape pressing by feet! Do not miss a visit during the harvest season!
Direct Sales from the Company
By appointment.
Onsite Visits
By appointment.
TEL: 0575.648340 – 335.6095187 FAX: 0575.642828
EMAIL: amerighi@inwind.it
What to do after the tour?
Where: Piazza Luca Signorelli, 27