Antinori, la Braccesca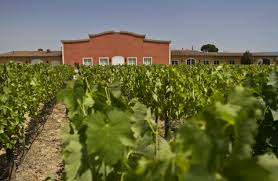 Antinori, la Braccesca
Yesterday we had a nice visit at Antinori, la Braccesca to improve our wine tours and we immediately fall in love!
We have a small collection of Bramasole, and we would like to buy more and more of this wine as it is perfect for aging and drink at special occasion.
The La Braccesca estate is surrounded by a splendid territory, first Etruscan and Roman, then medieval and Renaissance. This is another great wine tour in Cortona!

The Marchesi Antinori firm began to invest in this zone – one of the newest and most promising of Tuscany and of all of Italy – in the early 1990's.
WHERE: Via Stella di Valiano 10 53045 – Montepulciano SIENA
Mobile ph: +39 347 475 1308
GPS: N 43.995897° E 11.5732068°
Wine shop opening time: Monday to Friday   from 9.00 AM to 1.00 PM  and from  02.30 PM to 5.00 PM
Visits & tasting
Pls. contact: 0039 347 4751308
 REMEMBER ALWAYS TO CALL in advance to book your tour.
You need a reservation to visit this wine cellar!