Kamars Ceramics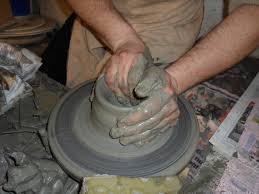 Kamars Ceramics, hand made Tuscan ceramics in Chiusi Chianciano – only 20 minutes driving from il Fontanaro.
Kamars Ceramics ,  Etruscan name of the town of Chiusi, is the pottery work-shop owned by Flavio Ferdinando Foderini. Founded on 1958 by the father Fernando, together with the Maestro Don Manfredo Coltellini, it has been the first artistic work-shop born in the area  of Chiusi.  Still today it bases its activity on the features of the craftsman shops of the tuscan Renaissance, affirmed in all their magnificence with Luca della Robbia during the 1400. The familiar management, the meticulosity for learning this trade and the rigorousness in the hand-made production, are the "rules" that are handed down from father to son together with the secrets born from a so long experience of half century.
Flavio Ferdinando, young undergraduate in architecture, is a real fond of art, ancient cultures but above all a great lover of old majolica, from the pre-archaic prototypes until the nineteenth-century ones.  
At the shop you can order special design ceramics (they delivered all over the world) and if you have time also enjoy a one to one ceramic class.
A lot of Pottery of il Fontanaro comes from Kamars ceramics!
Where: Str. St. 146 Querce al Pino, 54047 Chiusi (Siena). 200 mt after Chiusi Chianciano high way exit –  tel/fax (0039) 0578 274047   http://www.kamars.it/